With over twenty years experience,
Shinn Construction has an excellent reputation in the industry, and in the community.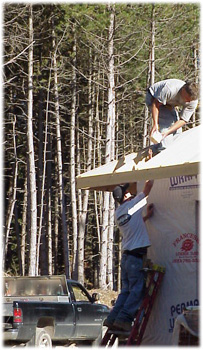 Gerry Shinn and his crew confirm this reputation with every project by consistently delivering high quality construction and craftsmanship, maintaining an efficient and professional manner, meeting project schedules, and satisfying clients.

Shinn Construction specializes in:
New Residential Construction
Custom Woodworking and Cabinetry
Historical Restorations
Remodeling and Additions


The crew works with their clients to create the custom "home of their dreams", with features such as dramatic foyers, cathedral ceilings, master bedroom suites with luxurious baths, gourmet kitchens, custom cabinetry and trim, hand-laid fireplaces, tile and hardwood flooring.

When restoration is the goal, Shinn Construction is sensitive to historical accuracy and value.

The staff of Shinn Construction is skilled in the use of the most primitive as well as the most technically advanced tools and materials.

This mastery of technique enables Shinn Construction to truly personalize each project; whether the home owners' vision is that of hand hewn rustic character, contemporary elegance, or a fusion of styles.

Custom renovations and additions by Shinn Construction not only personalize a living space, but add true value to a residence, and make daily living more efficient and more comfortable.

Every detail selected by the homeowner is meticulously crafted and integrated using only the highest quality materials resulting in a truly customized home.

By coordinating the project from groundbreaking or destruction, through framing, to the installation of finish details, Shinn Construction insures that the completed project truly represents the homeowner's vision.